LAPT BAHAMAS MAIN EVENT, A DAY 2 FOR TWO ONPOK PLAYERS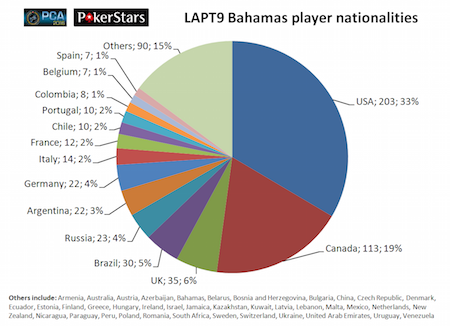 PAUL-FRANÇOIS TEDESCHI AND GUILLAUME DARCOURT PERFORMED WELL IN THE TOURNAMENT AND WILL BOTH BE PRESENT AT THE DAY 2 THIS 8 JANUARY 2016
It's Paul-François Tedeschi and Guillaume Darcourt who will both be present at the DAY2 this 8 January around 12h00(18h00 Paris time) with different situations.
PFT will attack the day with 25k and Guillaume with 89k, being the average of 71k for 239 left. With 851 entries in total, the number of inscription increased compared to last year.
It's the Canadien Tyler Hurman who is leading the tournament with 261 300 chips.127 players with be paid for a mincash of $3460. The first finalist will win $ 28, 900 and the beautiful amount of $ 308,220 for the winner! At the DAY 2 Paul-François will face the extravagant Leo Fernandez as well as the French Michel Pomaret. Guillaume Darcourt will have to face Connor Drinan and the francophone Gilbert Diaz, The spectacle risk to be pleasant!
Une pensée aussi pour Adrien Allain qui hier ne sera pas parvenu à tirer son épingle du jeu, et qui, malgré un re-entry, n'aura pas pu atteindre le DAY 2, good luck à lui pour les autres épreuves de son festival.
Redraw du DAY 2
| | | | | |
| --- | --- | --- | --- | --- |
| Leo Fernandez | Argentina | 19 | 1 | 116300 |
| Cindy Kerslake | Canada | 19 | 2 | 22800 |
| Joe Kuether | USA | 19 | 3 | 20300 |
| Paul-Francois Tedeschi | France | 19 | 4 | 24900 |
| Thomas Tolbert | USA | 19 | 5 | 29600 |
| Boris Kolev | Bulgaria | 19 | 6 | 182500 |
| Michel Pomaret | France | 19 | 7 | 25100 |
| Przemyslaw Piotrowski | Poland | 19 | 8 | 25200 |
| | | | | |
| --- | --- | --- | --- | --- |
| Carter Gill | Colombia | 18 | 1 | 43000 |
| Seth Silverstein | USA | 18 | 2 | 55500 |
| Gilbert Diaz | France | 18 | 3 | 55500 |
| Guillaume Darcourt | France | 18 | 4 | 89300 |
| Daniel James Kelly | USA | 18 | 5 | 51000 |
| Lawrence Greenberg | USA | 18 | 6 | 111500 |
| Connor Drinan | USA | 18 | 7 | 34100 |
| Jerome Kobina Evans | Germany | 18 | 8 | 17500 |