POKERSTARS CHAMPIONSHIP PRESENTED BY MONTE-CARLO CASINO®, MAIN EVENT: Three for a DAY 3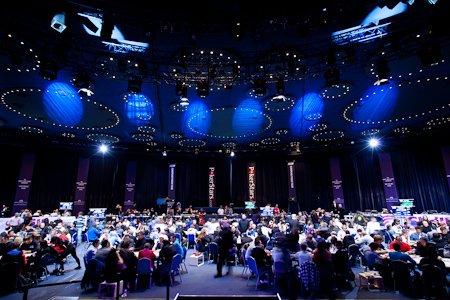 Three of our players have reached  silver in the main event of this POKERSTARS  CHAMPIONSHIP presented by MONTE CARLO CASINO®  and will come back tomorrow for the DAY 3. Jimmy Guerrero, Paul- François Tedeschi and Renaud Lejal will not let anything go, they will return to dream for the final and the trophy!
Tomorrow will be another day, but there is a need to compete, show a lot of patience , go through the shots and sometimes grin and bear in order that our three players , Jimmy Guerrero, Paul-François Tedeschi et Renaud Lejal reach the DAY 3. Adrien Allain didn't have the chance, but tomorrow he will be among the first supporters behind his team to push them towards the best performance possible.
As from 12hOO , our three players will retake on the blinds 1500/3000/500  ( with an average of 152 518 chips) and this is also for 16 mins, before proceeding to the blinds 2000/4000/500, each one respectively had :
Jimmy Guerrero 110k
Paul-François Tedeschi 139k
Renaud Lejal 121k
Let us wish them good luck, each one will win a minimum of 7580 €, but all dream for ONPOK and themselves to win the 500 800€ and the trophy dedicated to the winner, go ONPOK!
Below the seat draw for each of our players, tomorrow the task will not be easy for anybody :
| | | | | | |
| --- | --- | --- | --- | --- | --- |
| Christoph Vogelsang | Germany |   | 128500 | 16 | 1 |
| Stefan Huber | Switzerland | Live satellite winner | 203000 | 16 | 2 |
| Diego Zeiter | Switzerland | PokerStars player | 234000 | 16 | 3 |
| Jimmy Guerrero | France |   | 110000 | 16 | 4 |
| Adrian Ionescu | Romania | PokerStars qualifier | 66500 | 16 | 5 |
| Hossein Ensan | Germany | PokerStars player | 290000 | 16 | 6 |
| Manig Loeser | Germany |   | 323500 | 16 | 7 |
| Gianluca Speranza | Italy | PokerStars player | 296000 | 16 | 8 |
| | | | | | |
| --- | --- | --- | --- | --- | --- |
| Luiz Duarte | USA | PokerStars qualifier | 166500 | 4 | 1 |
| Marcin Dziembala | Poland | PokerStars qualifier | 29000 | 4 | 2 |
| Andrey Bondar | Russia | Live satellite winner | 130500 | 4 | 3 |
| Paul-Francois Tedeschi | France |   | 139000 | 4 | 4 |
| Fabrice Soulier | France | PokerStars qualifier | 364500 | 4 | 5 |
| Ian Gillespie | USA | PokerStars qualifier | 27000 | 4 | 6 |
| Thiago Crema | Brazil | PokerStars player | 193000 | 4 | 7 |
| Waldemar Nowak | Poland | PokerStars qualifier | 66000 | 4 | 8 |
| | | | | | |
| --- | --- | --- | --- | --- | --- |
| Robert Pankowski | Poland | PokerStars qualifier | 100000 | 3 | 1 |
| Michael Kolkowicz | France |   | 470500 | 3 | 2 |
| Geoffroy Combette | France | PokerStars qualifier | 162500 | 3 | 3 |
| Vasileios Charalampakis | Greece | Live satellite winner | 41500 | 3 | 4 |
| Renaud Lejal | France |   | 121500 | 3 | 5 |
| Francesco Favia | Italy | PokerStars player | 201000 | 3 | 6 |
| Johan Guilbert | France |   | 85000 | 3 | 7 |
| Raffaele Sorrentino | Italy | PokerStars qualifier | 243500 | 3 | 8 |